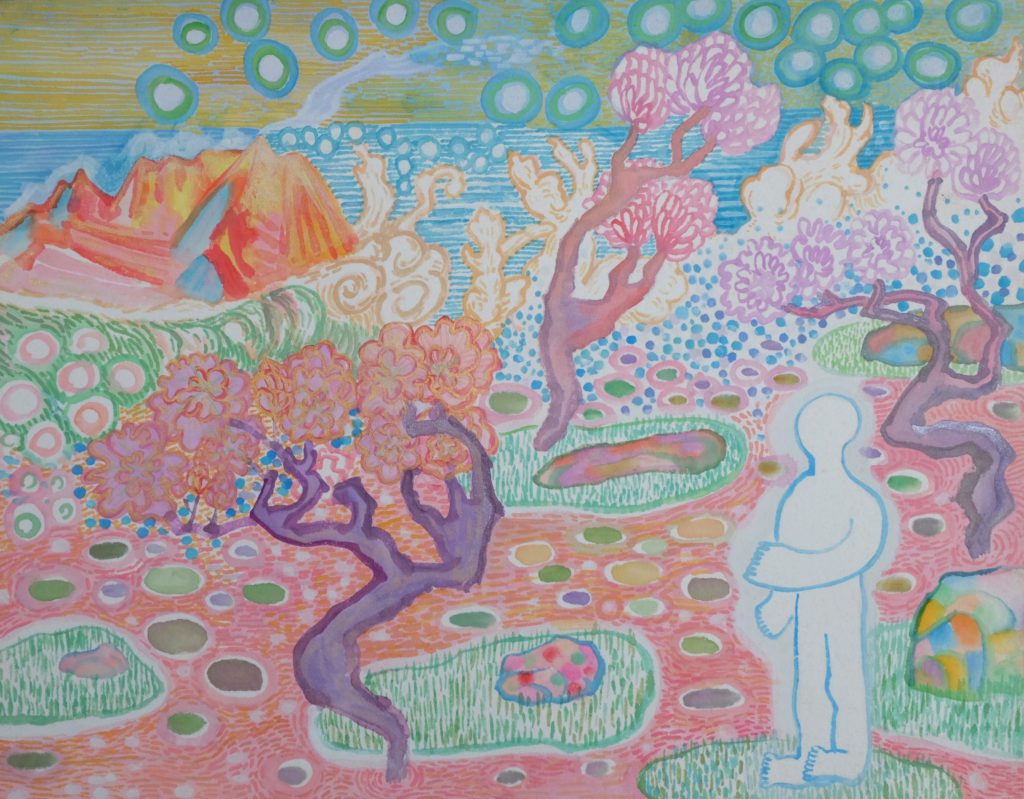 Ceylon Houndstongue and the Realms of Land, Water, Fire, Wind, and Space, 2015-2017, video and spatial installation, painting (oil painting, watercolor, acrylic), sculpture (glazed pottery), dimensions variable.
Northern Art Village H
The feeling of being adrift and that of being moored alternates; the repeated rocking awakes me.
On the mountainside near which the Shangri-La Hundred Chicken Temple is located, I witness blue ceylon houndstongue flowers above red soil. Similar to the five elements of the body in operation, land, water, fire, wind, and air undergo transformations to produce changes such as relaxation, pain, darkness, and light. I find myself thinking about the five elements. The experience of fasting and hunger strike for three days in Sept. 2017 has inspired me to create the following work of art.
The Realms of Land, Water, Fire, Wind, and Space
The realm of wind represents breathing, smelling, and air flows and mirrors the weed-covered wall found to the right of the entrance. Weeds collected from various places are hung upside down on the wall, in which they emit odor, become dry, and show a dry color as time passes.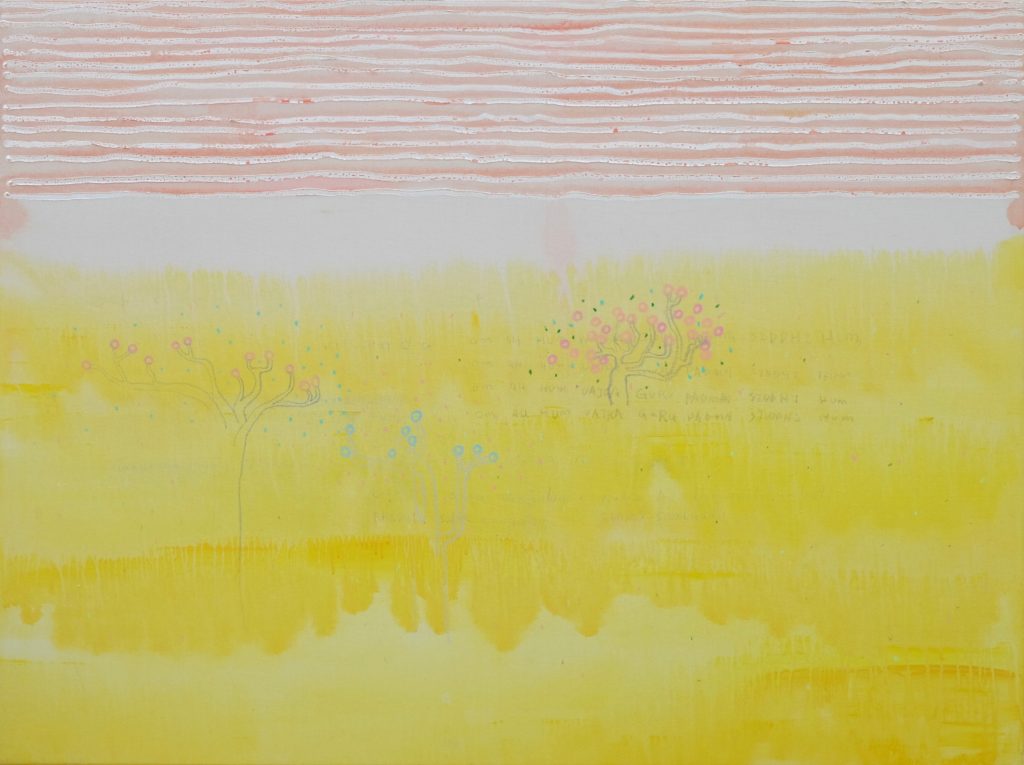 Weed-covered wall Dimension: 280x230cm
The realm of fire represents the body's temperature; without fire, life will perish. Temperature is a like a force and a form of heat and smoke. As body transfers warmth, goodwill transfers sparks of fire.
The realm of water represents the collection and delivery of messages. In addition, it regulates the temperature of the realm of fire to achieve a state of balance.
The realm of land is solid yet fragile. When water, wind, and fire operate in the realm of land, grass and flowers flourish and bodies are provided with energy.
The realm of space represents all physical space and includes the chlorophyll in leaves, moisture in the nasal cavity, field of vision, and the field of "visualization."
Images, paintings, sculpture, installations, and behavior are used to clarify and understand the realms of land, water, fire, wind, and space.

Drinking Tea and Light
Co-presented by: Yen-Hong LIU and Caketrees Studio
Presentation date: Nov. 17, 2017 (the opening day); duration: two hours;
Location: House of Ceylon Houndstongue (Lane 35, Alley 7, No. 6), Northern Art Village, National Taiwan University of Arts
Events: Tea making, tea drinking, and tea ceremonies, in which everyone is invited to join
Drinking tea and light,
Light illuminates tree leaves, allowing tree branches to grow new buds,
The tree leaves are collected and rubbed, creating darkness and sleepiness,
Boiling water is poured to bring out the flavor of the trees leaves,
In which tea is produced.
By drinking light,
Infinite knots are tied.